WESTCAT UPDATES RELATED TO CORONAVIRUS
Updated August 4, 2021
ALL ABOARD BAY AREA TRANSIT
We're moving forward together. With the state of California reopening, large events beginning and employers signaling a return to office, the Bay Area's transit agencies are working together to provide information regarding transit services schedule updates and tips for passengers. All 27 Bay Area agencies are collaborating to deliver services that will restart our region and get people where they need to go.Whether you are commuting multiple days a week, returning to school, visiting your favorite place, or taking occasional trips, we are here to help.
Welcome back, Bay Area. It's great to see you again on transit!.
To learn more, visit the All Aboard Bay Area Transit Web site. All Aboard Bay Area Transit. (PDF)

Please visit the Operator/Service Information page for the latest info from each transit provider. All Aboard Bay Area Transit Provider Page. (PDF)

WHAT WESTCAT IS DOING TO PROTECT YOU
All of us at WestCAT are committed to providing a safe environment for our customers and employees. We believe we are all in this together. To provide a safe environment for our customers and employees, WestCAT is currently performing the following safety measures:
We have enhanced our nightly bus cleaning schedule to include fogging and wiping down high touch areas (handrails, ceilings, walls) and all exposed hard surfaces inside of the buses using commercial and hospital-grade cleaners and disinfectants, consistent with CDC guidance.
We have installed hand sanitizer dispensers on all buses.
We are encouraging all passengers to wear facemasks while riding on all WestCAT buses.
We are providing complimentary facemasks to customers who board without one whenever possible.
We have included a daily sanitizing and disinfecting routine at our facility.
We are encouraging staff members and drivers to take everyday preventive actions and to stay home if they present with fever and/or respiratory infection symptoms.
We are monitoring daily transmissions from the CDC and County Health Services and every precaution is being taken to protect the health and safety of our employees and customers.
As WestCAT is taking preventative measures and enhancing cleaning procedures to protect staff and riders, we also encourage passengers to practice good transit hygiene, mirroring what health officials have been stressing: wash your hands frequently, use a hand sanitizer that contains at least 60% alcohol, cough into your elbow, and stay home when you are sick.
For more information about what Contra Costa Health Services has to say for people living in Contra Costa County CLICK HERE.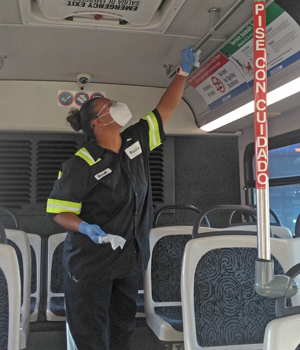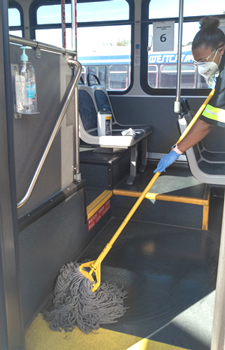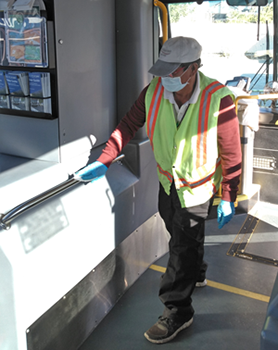 PASSENGER CAPACITY / SOCIAL DISTANCING: FULL CAPACITY RESUMED JULY 1, 2021.
Starting July 1, WestCAT returned to full passenger capacity on all buses without social distancing requirements. Masks are recommended.
FACEMASKS NO LONGER REQUIRED BUT STRONGLY RECOMMENDED ON ALL BUSES
The Transportation Security Administration (TSA) has lifted the facemask requirement on public transit vehicles as of April 19, 2022. However, the wearing of a mask while on board WestCAT buses is still strongly recommended.

FARES / BOARDING (FARE COLLECTION RESUMED FEBRUARY 1, 2021)
Fare is now required on all WestCAT buses Please be prepared to pay fare to avoid being denied a ride.
LYNX BUS TO SAN FRANCISCO
Lynx service into San Francisco is in operation and is operating the schedule that went into effect on September 18, 2021. To see the current Lynx Schedule, click here: Lynx Schedule.

LOCAL / EXPRESS BUS SERVICE
Local and Express bus service is in operation and operating the schedule that went into effect on September 18, 2021. To see the current WestCAT Bus Schedule, click here WestCAT Schedule. (PDF).
DIAL-A-RIDE/PARATRANSIT
Dial-a-Ride and ADA Paratransit Service are now back to pre-COVID operations.
ADMINISTRATIVE OFFICE HOURS
WestCAT's Administrative office is currently open Monday thru Thursday from 9:00 AM - 4:00 PM.
TICKETS / PASSES
Tickets and Passes are available for purchase online at WestCAT's new online store.
To purchase passes online visit WestCAT Online Store
CLIPPER
All Clipper card services will need to be handled directly through the Clipper Customer Service Center by visiting www.clippercard.com or by calling 877.878.8883.
All of us at WestCAT recognize that public transit is an important service to our community. We are working hard to make sure bus service in Western Contra Costa County is provided during this challenging period. Your cooperation and patience is greatly appreciated.